Label Nights 2019 – Jazz & Experimental in Berlin
Trouble In The East Records presents:
"Jazz & Experimental in Berlin" Label Nights 2019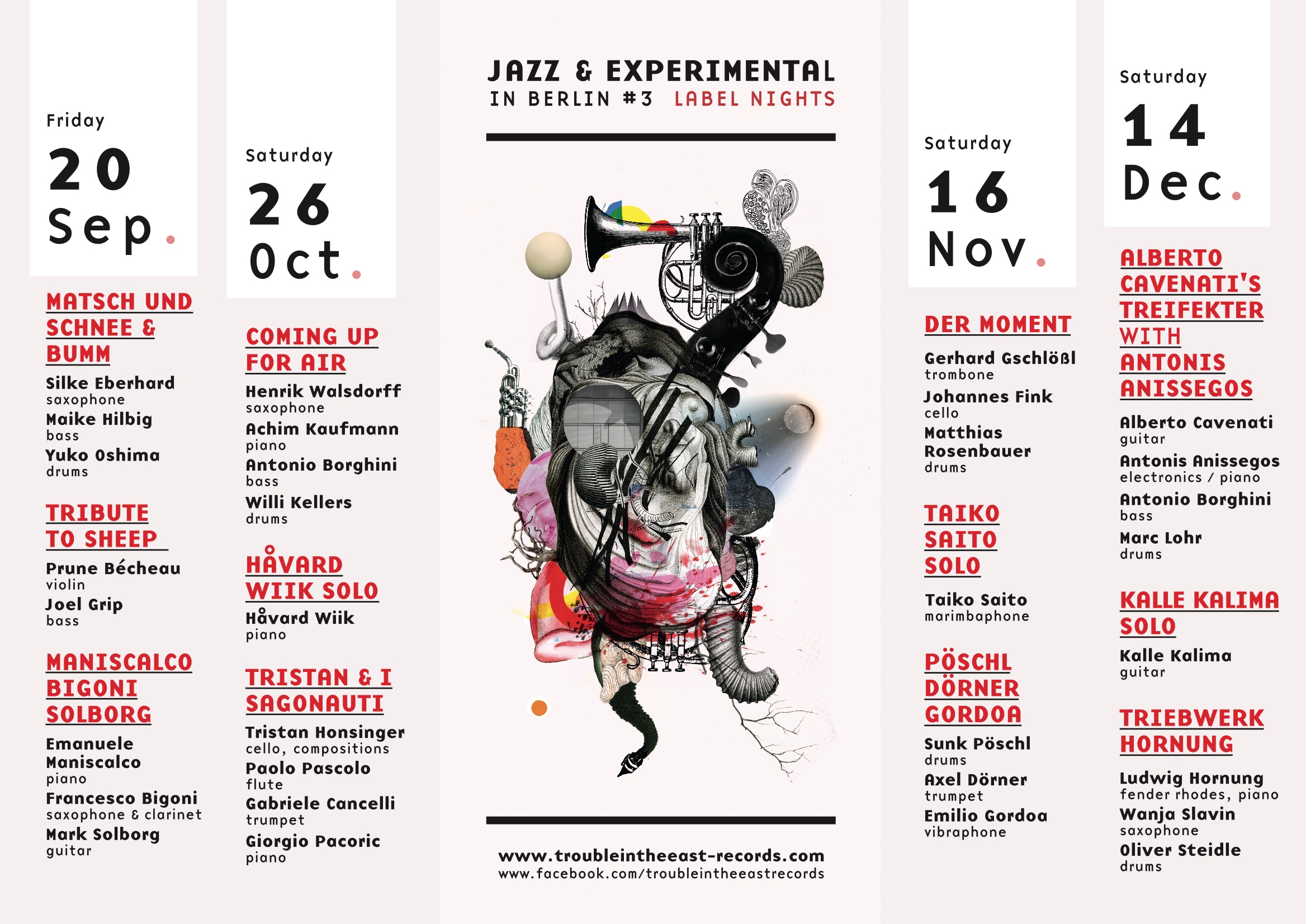 Trouble in the East Records is proud to announce the third edition of "Jazz and Experimental in Berlin – Label Nights 2019".
"Jazz and experimental in Berlin" is a series of concerts conceived as a further realization of the label's aim to represent music in which creativity and the element of improvisation are unifying and ubiquitous components of stylistically diverse realities. We avoid therefore to identificate with a particular genre or scene.
This mindset is well represented in this edition of the Label Nights in which, alongside most of the bands that recently collaborated with us, we involved a number of renowned guests to complete a program under the banner of multiplicity and inclusion.
On each of the four nights three small ensembles (ranging from solo to quartet) will alternate on stage, always creating a unique and fascinating combination of distinct sounds and approaches that bear the hallmark of individuality, sincerity and adventurousness.
Don't miss out!
Peace.
---
PROGRAM
---
20th September 2019 (Friday)
Matsch und Schnee & Bumm
Silke Eberhard – saxophone
Maike Hilbig – bass
Yuko Oshima – drums
Tribute To Sheep
Prune Bécheau – violin
Joel Grip – bass
Maniscalco / Bigoni / Solborg
Emanuele Maniscalco – piano
Francesco Bigoni – saxophone & clarinet
Mark Solborg – guitar
26th October 2019 (Saturday)
Coming Up For Air
Henrik Walsdorff – saxophone
Achim Kaufmann – piano
Antonio Borghini – bass
Willi Kellers – drums
Håvard Wiik Solo
Håvard Wiik – piano
Tristan & i Sagonauti
Tristan Honsinger – cello, compositions
Paolo Pascolo – flute
Gabriele Cancelli – trumpet
Giorgio Pacoric – pian
16th November 2019 (Saturday)
Der Moment
Gerhard Gschlößl – trombone
Johannes Fink – cello
Matthias Rosenbauer – drums
Taiko Saito Solo
Taiko Saito – marimbaphone
Pöschl / Dörner / Gordoa
Sunk Pöschl – drums
Axel Dörner – trumpet
Emilio Gordoa – vibraphone
14th December 2019 (Saturday)
Alberto Cavenati's Treifekter with Antonis Anissegos
Alberto Cavenati – guitar
Antonis Anissegos – electronics / piano
Antonio Borghini – bass
Marc Lohr – drums
Kalle Kalima Solo
Kalle Kalima – guitar
Triebwerk Hornung
Ludwig Hornung – fender rhodes piano
Wanja Slavin – saxophone
Oliver Steidle – drums
---
Panda Theater
Knaackstrasse 97,10435 Berlin i.kl. Hof der Kulturbrauerei,
(gegenüber Fahrradverleih "Berlin on Bike")
Beginn : 20h30 Uhr
Eintritt: 15/10 €
---